Orange County Branch Newsletter
July 2019
ASCE OC YMF
2019 Speaker Series
By Mathew Picardal | YMF Speaker Series Committee Co-Chair
The 2019 ASCE OC YMF Speaker Series was held at HDR's Irvine office, on four consecutive Tuesdays, starting on April 30th. The theme of the 2019 Series was "The Future-Proof Engineer: Adapt and Thrive In Change." These sessions aimed to "future-proof" a young professional's career with the experience and knowledge of the guest panel members. They provided invaluable insights and lessons on how to successfully shape your ideal career while navigating a changing industry.
Project Engineer to Project Manager: Prepare for the Promotion
The first panel session consisted of Kathereen Shinkai (LPA), Kevin Du Mont (Du Mont Engineering), and Ravi Shah (Mark Thomas). In this sold-out session, our panelists drew from their own career experiences and gave valuable insights on how to prepare and excel at being a project manager (PM). The speakers emphasized the importance of not being in a rush to become a PM and to instead take the time to develop your technical expertise first, so you can better serve your team and clients when you do become a PM. They also brought up the importance of emotional intelligence, as well as the business and people skills needed to be a great project manager.
AR/VR and AI: Digital Disruption & Civil Engineering Re-Imagined
Amrita Bajwa (Jacobs) presented on trending technologies, such as augmented/virtual reality, drones, and artificial intelligence and how they would affect the civil engineering and construction industry in the future. The audience learned to embrace and accept these changes and new technologies instead of resisting them, as well as practical ways to implement them in their own firms.
Engineering through Economic Cycles: Thrive in any Economy
Jeff Cooper (NV5) and Aileen Santos-Redman (Gannett Fleming) spoke about their experiences going through recent economic downturns and recessions and the lessons that they learned from them. The audience learned career-saving lessons on how to best position themselves in their firms before a recession, as well as the business, networking, and soft skills needed to thrive in one.
Collaborating with Cities: An Integrated Approach
The final session consisted of Brian Ulaszewaki (City Fabrick) and Meredith Reynolds (City of Long Beach) guiding the audience through the city's community-based process of planning and design. By knowing how the city is trying to help the community and what they are really trying to achieve, the audience gained insights on how to adapt their engineering and design approach in order to improve collaborations with the city and public sectors.
The Speaker Series was again one of the YMF's most well-attended events, with 80+ attendees over the four weeks. Thank you to our speakers, sponsors, and all attendees; we look forward to seeing you at next year's Series!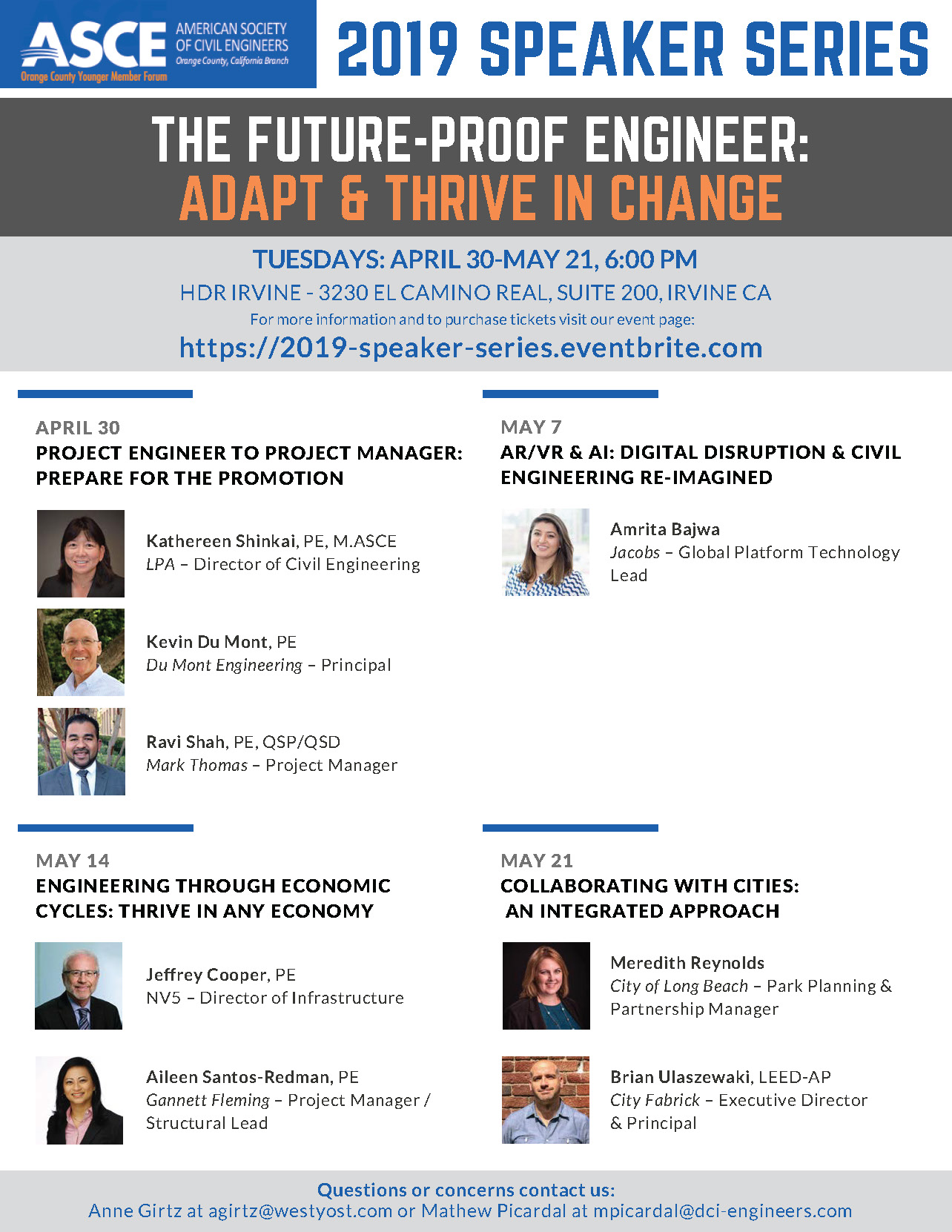 ---
About the Author
Mathew Picardal, P.E. is a Structural Engineering Project Manager at DCI Engineers. When he's not working or helping ASCE OC YMF, he's helping engineering students and young professionals learn more about what it's like to have a career in the structural engineering industry through his structural engineering YouTube channel and podcast. Mathew can be reached via matpicardal@gmail.com and LinkedIn: https://www.linkedin.com/in/matpicardal/.
---
Related Groups/Committees