Orange County Branch Newsletter
September 2019
ASCE OC T&DI & Government Relations Committee
A Panel on SB 1
By Adeleine J. Tran, P.E. | Government Relations Comittee Co-Chair
Since Senate Bill (SB) 1 was signed into law in 2017, the gas tax revenue has been the largest infusion of transportation funding for California. For our September 11 Luncheon, ASCE Orange County Transportation & Development Institute (T&DI) and Government Relations Committee proudly invited a panel of OC's leading transportation agencies (Caltrans District 12, Orange County Transportation Authority, and Orange County Public Works) to share with our members the positive impacts of SB 1 funding on our local and state surface transportation infrastructure. Current and future projects, such as the repair of our bridges, completion of the OC Loop, pavement preservation along SR-55 and 57, and operations of bus/rail services, would not be possible without SB 1! When asked about the future of the California Infrastructure Report Card, all of our panelists believe that transportation investments, such as but not limited to SB 1, will undoubtedly help increase our grades, particularly in roads where the category is only a "D."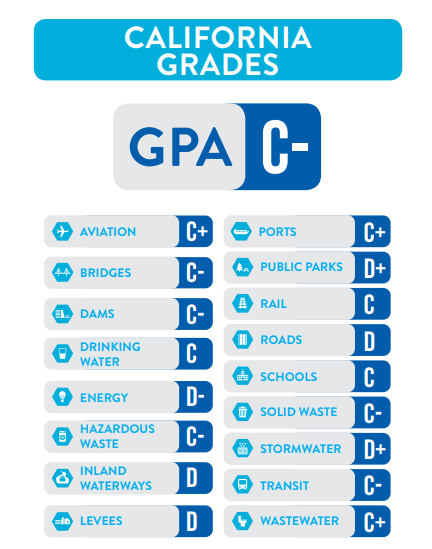 The panel discussion was well received by over 60 attendees. I'm so proud to have been part of the planning committee. Many thanks to:
Our panel speakers, Ryan Chamberlain (Caltrans), Jim Beil (OCTA), and Nardy Khan (OCPW), and panel moderator, Dina Rochford (Leighton), for sharing their time;
Our lunch sponsors, Jacobs and Michael Baker International, for supporting our event;
T&DI board members, Kelsie Anderson, Juliet Su, and Robert Martinez, for providing so much guidance;
Lastly, my GR Committee co-chair, Patrick Tierney, for coordinating this event with me!
Panel Speakers: Caltrans District 12 Director, Ryan Chamberlain; Deputy Director of Infrastructure Programs for Orange County Public Works, Nardy Khan; and the Executive Director of Capital Projects for Orange County Transportation Authority, Jim Beil.
ASCE OC Branch Executive Board, T&DI Board, and Government Relations Committee Chairs with Panel Moderator and Speakers.
To raise California's infrastructure grade, ASCE developed the following four recommendations:
Promote effective and collaborative leadership;
Develop smart plans to better identify funding needs;
Increase state and local funding;
Inform the public and raise awareness.
As civil engineers, we are responsible for protecting the public's quality of life, we have the technical expertise and professional duty to help our communities and lawmakers work towards a comprehensive infrastructure investment plan. We encourage you to share the grades with your friends, families, and legislators to help promote the improvement, repair, and modernization of our infrastructure.
---
Share the 2019 California Infrastructure Report Card:
There's an App for that!
Search Save America's Infrastructure on App Store or Google Play
See how you can get involved:
---
About the Author
Adeleine Tran, P.E., is a Geotechnical Engineer with Jacobs Engineering Group, Inc. As an engineer, she is passionate about advancing the profession and giving back to the community. In her other life as a food lover and travel enthusiast, she enjoys exploring new places and trying the locals' favorite restaurants. For any inquiries or food recommendations, Adeleine can be reached via adeleine.tran@outlook.com and LinkedIn.
---
Advertisement: