Orange County Branch Newsletter
July 2019
ASCE OC Branch & Government Relations Committee
2019 California Infrastructure Report Card Luncheon
By Adeleine J. Tran, P.E. | Government Relations Comittee Co-Chair
On May 7, the ASCE Region 9 (California) Board of Governors, along with the Region 9 Report Card Task Committee and the ASCE Government Relations & Infrastructure Initiatives Department, released the 2019 California Infrastructure Report Card on the grounds of the Sacramento Capitol. The grades in ASCE's Report Card are graded on eight key criteria: condition, capacity, funding, future need, operation and maintenance, public safety, innovation, and resilience. An overall grade of "C-" means our infrastructure is in mediocre condition and requires attention. In addition to the overall grade, the Report Card includes 17 individual category grades and is riddled with grades in the D range. This is not something most of us would be proud of.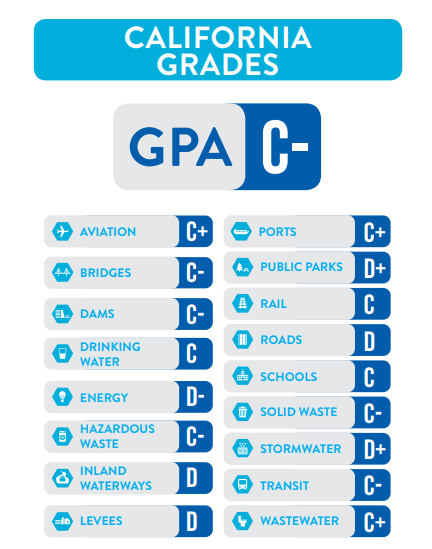 For our June 2019 Luncheon, ASCE OC Branch and Government Relations Committee invited Mr. Harvey Gobas, P.E., to discuss the recently released 2019 California Infrastructure Report Card. Harvey is the President and Principal Engineer from Gobas Engineering Management Services, Inc. and also served on the 2019 Report Card committee, which comprises over 100 professionals and experts from California who dedicated their valuable time to collect and evaluate existing data, assess the infrastructure, document their findings, and develop recommendations. The committee worked with staff from ASCE National and ASCE's Committee on America's Infrastructure to provide a snapshot of our infrastructure, as it relates to us at home, and on a national basis.
In his presentation, Harvey highlighted the challenges with the 17 category disciplines and discussed solutions to raise our grades. To raise California's infrastructure grade, ASCE developed the following four recommendations:
Promote effective and collaborative leadership;
Develop smart plans to better identify funding needs;
Increase state and local funding;
Inform the public and raise awareness.
Harvey Gobas discussing solutions to raise our grades
As civil engineers responsible for protecting the public's quality of life, we have the technical expertise and professional duty to help our communities and lawmakers work towards a comprehensive infrastructure investment plan. We encourage you to share the grades with your friends, families, and legislators to help promote the improvement, repair, and modernization of our infrastructure.
Share the 2019 California Infrastructure Report Card:
There's an App for that!
Search Save America's Infrastructure on App Store or Google Play
See how you can get involved:
---
About the Author
Adeleine Tran, P.E., is a Geotechnical Engineer with Jacobs Engineering Group, Inc. As an engineer, she is passionate about advancing the profession and giving back to the community. In her other life as a food lover and travel enthusiast, she enjoys exploring new places and trying the locals' favorite restaurants. For any inquiries or food recommendations, Adeleine can be reached via adeleine.tran@outlook.com and LinkedIn.
---
Related Groups/Committees