Geo-Institute (G-I)
The Geo-Institute (G-I) Orange County (OC) Chapter was founded in 2013 to allow our members to interact with other professionals in the geotechnical field of civil engineering. We regularly send active OC Branch members to G-I Congresses held on an annual basis across the country. We hope the OC Branch members will learn new ideas and find interesting speaker topics that we can bring back to our local branch members. Periodically G-I OC holds joint events with the OC Branch during branch general meetings. The OC Branch and the G-I OC work together to provide continuing education events that are relevant to G-I members. We hope you will come out and participate in our institute and work with us to build a strong foundation.
The 2018-2019 G-I OC Board of Directors
---
May 2019 Dinner Meeting - Shear Wave Velocity Liquefaction Triggering Assessment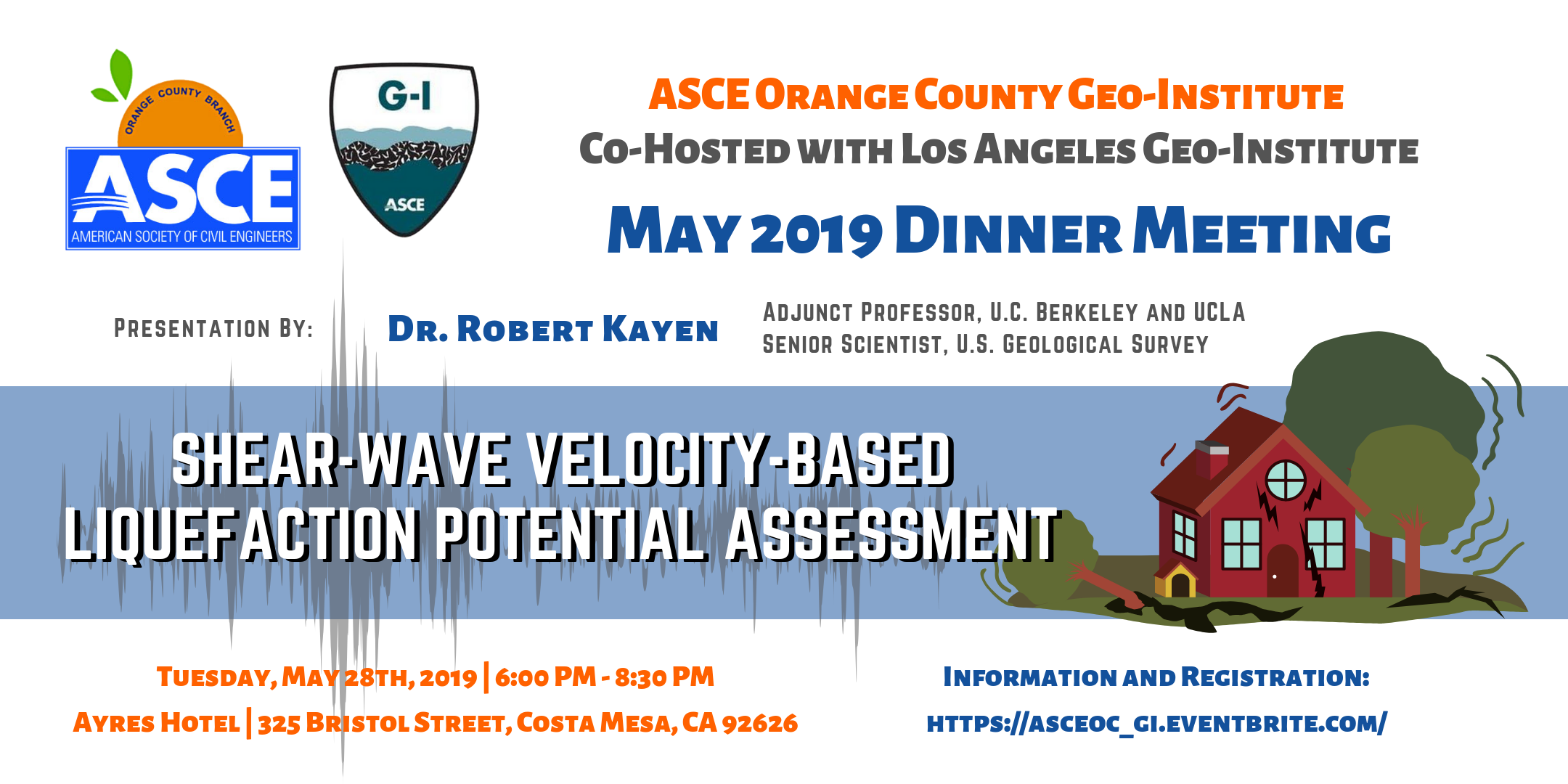 On Tuesday, May 28, 2019, the ASCE OC & LA Geo-Institute co-hosted a dinner presentation by Dr. Robert Kayen. The presentation discussed the results of an 11-year international project that gathers new Vs site data and develops probabilistic correlations for seismic soil liquefaction occurrence. The presentation can be downloaded from the link below:
Introduction:
Dr. Robert Kayen, Adjunct Professor, UCLA, UC Berkeley, Senior Scientist, U.S. Geological Survey:
---
2019 Continuing Education Seminar - Ground Improvement: Shallow and Deep Methods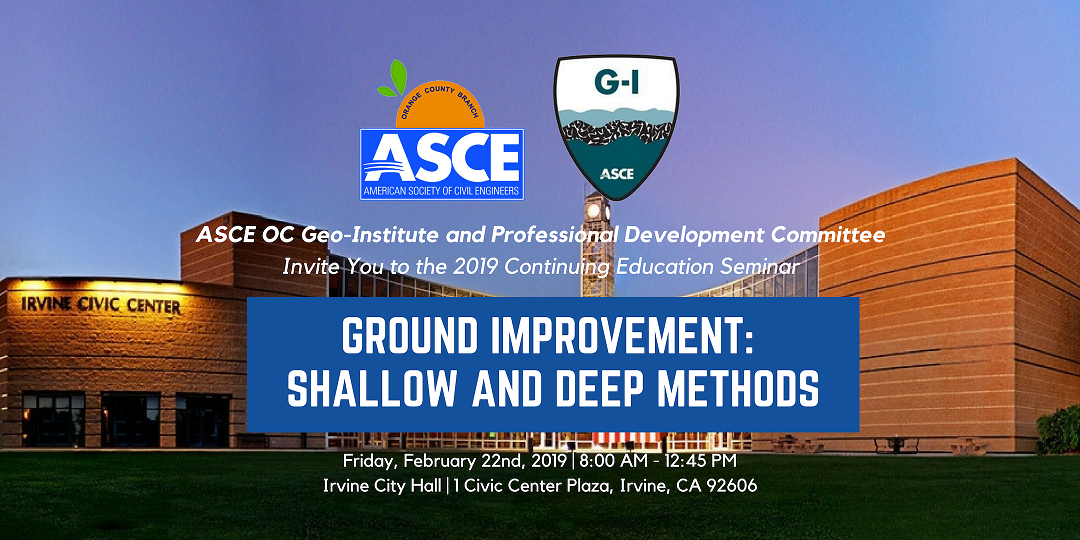 On Friday, February 22, 2019, the ASCE OC Geo-Institute and Professional Development Committee co-hosted our annual Continuing Education Seminar. This year's seminar focused on several ground improvement methods. The presenters and their respective presentations are as follows:
Introduction:
Dr. Lisheng Shao, Ph.D, PE, GE with Hayward Baker:
Professor John Harvey, Ph.D, PE of University of California, Davis:
Professor Kyle Rollins, Ph.D, PE of Brigham Young University:
---
More Information
Below in the "Related News" section are some articles from past events. For more information contact [email protected].
Contacts
Pavlo Chrysovergis, PE
Geo-Institute Chair
SPC Geotechnical, Inc.
.(JavaScript must be enabled to view this email address)

---
Michael Givens, PhD, PE, PG
Geo-Institute Vice Chair
Arup
.(JavaScript must be enabled to view this email address)

---
Ali Bastani, PhD, PE, GE
Geo-Institute Treasurer
GMU Geotechnical, Inc.
.(JavaScript must be enabled to view this email address)

---
Mohsen Mahdavi Kharanaghi, PhD, PE
Geo-Institute Secretary
Group Delta
.(JavaScript must be enabled to view this email address)

---
Sunil Arora, PE
Geo-Institute First Director
Hayward Baker, Inc.
.(JavaScript must be enabled to view this email address)

---
Taki Chrysovergis, PE
Geo-Institute Past Chair
SPC Geotechnical, Inc.
.(JavaScript must be enabled to view this email address)

---
Adeleine Tran, PE
Geo-Institute Younger Member Liaison
LANGAN
.(JavaScript must be enabled to view this email address)

---